Clientele | Industry Experience
Retail
THE PERFUME CONNECTION (7 YEARS)
Through rapid expansion from 8 stores to 36.
Brand positioning statements, brand development, corporate brochure (using existing logo), stationery, forms and administration/training support materials, store signage (interior and exterior) design and image conceptualisation, interior design image conceptualisation, uniform design, inaugural website development, point of sale promotions (posters, digital screen graphics, flyers, tent cards, wobblers, badges), retail packaging, merchandising sourcing and design, special promotions and events design, award submissions, advertising.
SWIPE LEFT TO SCROLL GALLERY: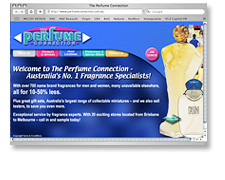 BIKU FURNITURE + HOMEWARES
SUGA SUGA
BRICK RESALES (LEGO)
UGG AUSTRALIA MADE SINCE 1974
BHUDEVI & IRIKANKI  NATURAL SKIN CARE & FRAGRANCE
PMD PENEL MCCARTHY DESIGNS
UNDERPILLOW TOOTH FAIRY TOOLKITS
ROMEO PENELOPE JEWELLERY
PJ'S ISLAND JEWELLERY
CARNEY MCCARTHY JEWELLERY
HEAT WHEAT INTERNATIONAL
TOMMY HILFIGER AUSTRALIA
TRELIVINGS TOILETRIES
EARTHLY POSSESSIONS
COUNTRYBELLE CLOTHING
ACCOUSTIC IMAGE SPEAKERS
MAXWELLS SKIN CARE
Manufacture, Import, wholesale Distribution
ENJOY LIVING U
SIGNAL GROUP (9 YEARS) U 
– SIGNAL ADVANTAGE
– SIGNAL PROMO/EVENTS
– SIGNAL EDUCATION
– ECO-FRIENDLY PROMO PRODUCTS
– NAMEBADGES.COM.AU
– PROMO SIGNAL HONG KONG
GOLD COAST ELECTROPLATING
HEAT WHEAT GLOBAL (6 YEARS)
Brand development in preparation to expand internationally then sell: redesign existing Heat Wheat Products and UltraShield logos so as to retain brand recognition whilst raising standards, new logo designs (Heat Wheat Global, Rapid Relief, Ensparation), stationery, forms, signage, corporate brochure, share offer document, share certificate, product and packaging design and production specifications (liaise with offshore manufacturer), point of sale promotions, sales tools, advertising.
SWIPE LEFT TO SCROLL GALLERY: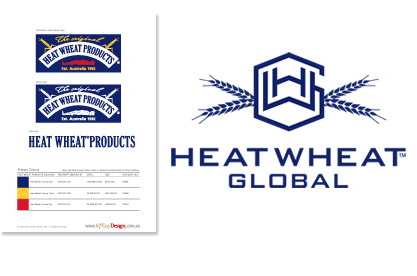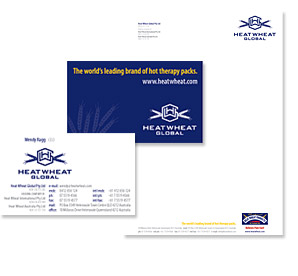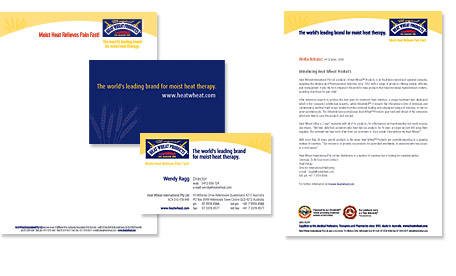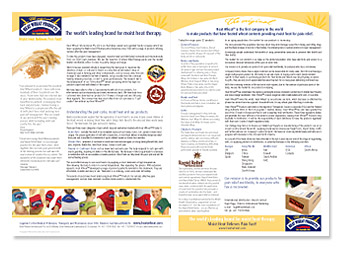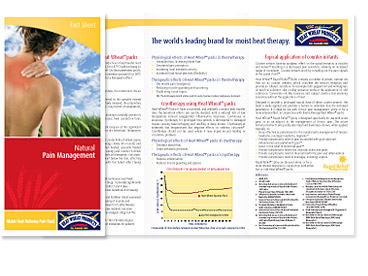 PHARMACY FRAGRANCE DISTRIBUTORS
BRAND POINT
PRESTIGE BRANDS AUSTRALIA
S&L AGENCIES
UGG AUSTRALIAN MADE SINCE 1974
EVENTS
PRIMEX FIELD DAYS
ROYAL QUEENSLAND SHOW- EKKA (4 YEARS)
IMG MERCEDES BENZ CUP
IMG WORLD FIGURE SKATING
TATLER EVENTS (5 YEARS)
MAGIC MILLIONS
FEAST OF BROADBEACH
IMG HONDA INDY GRAND PRIX
HOSPITALITY, GAMING
STUBBORN GROUP
LORD BYRON DISTILLERY (6 YEARS) U
GHOST DISTILLERS HIGHWAYMAN WHISKY
ESPRESSO LANE COFFEE
HALF PINT KITCHEN + BAR
CATALIST HOSPITALITY MANAGEMENT
MON KOMO HOTEL (4 YEARS)
Winner "Best Marketing"
Queensland Business Awards
Brand development, website development, menu design, signage, promotional graphics, events and wedding marketing materials, stationery, print and digital advertising, social media graphics.
SWIPE LEFT TO SCROLL GALLERY: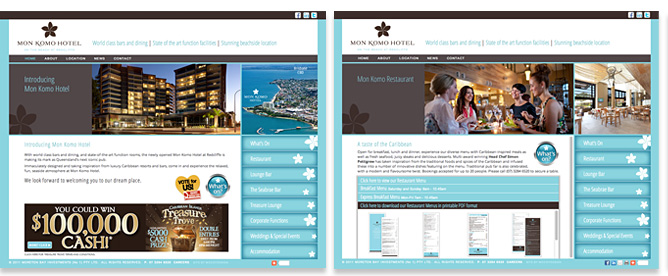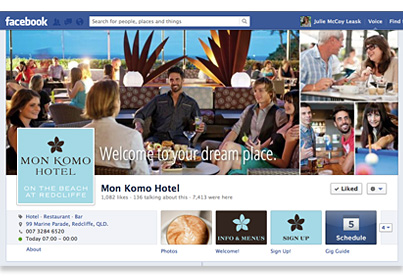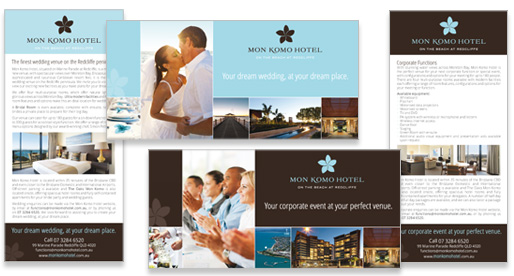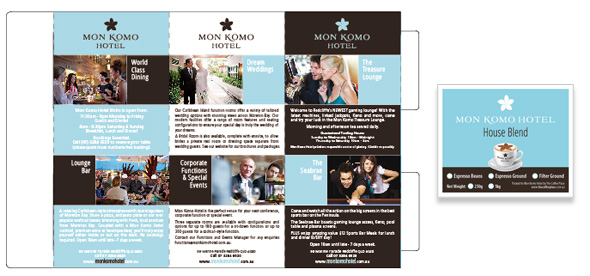 MONA VALE HOTEL
DEVOUR BREADS + CAFE
GRUMPYS BAREFOOT BAR + GRILL
LIAISON'S CAFE
OUTRIGGER SUN CITY RESORT
PARKROYAL HOTEL SURFERS PARADISE
PIZZ-A-CAKE (6 YEARS)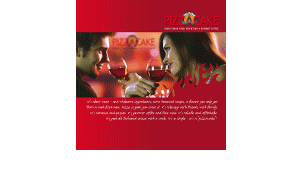 ZARRAFFA'S COFFEE (9 YEARS)
Through rapid expansion from 2 outlets (Southport and Harbour Town) in 2000 to 35.
Brand development, shop fit-out graphics, uniform concepts, inaugural website design in 2000, menu design, merchandising design, packaging design, promotional graphics, advertising.
SWIPE LEFT TO SCROLL GALLERY: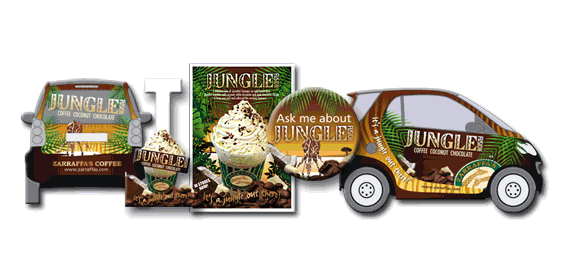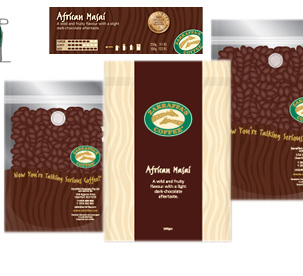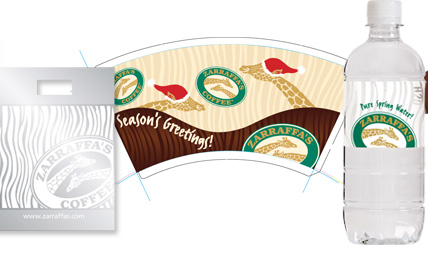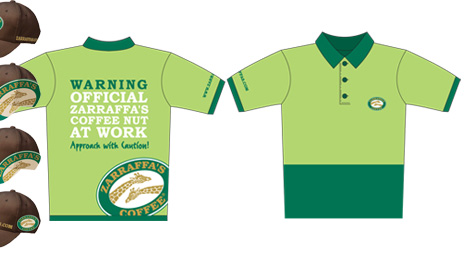 JAVA GOURMET COFFEE CO. (4 YEARS)
Brand development, logo design, promotional materials, display stand conceptualisation, packaging.
SWIPE LEFT TO SCROLL GALLERY: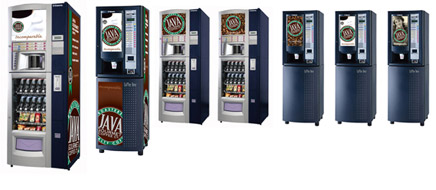 LEGAL, FINANCE, IT, TECH
SWITCH FINANCE (8 YEARS) U
NYST LEGAL
FINN ROACHE LAWYERS
STEADFAST SOLICITORS
BTACS ACCOUNTANTS
BTACS FINANCIAL SERVICES
MRCRM
VOYAGER TECHNOLOGIES
HEAD START TECHNOLOGIES (OZONE)
SPORT, FITNESS
BAILDON GROUP (6 YEARS)
SUPERFISH SWIM SCHOOLS (13 YEARS)
Winner "Best Marketing" ASCTA Awards
SUPERFISH SWIM CLUB
DE L'ISLE EQUESTRIAN
PULSE PILATES MVMT
SEA EAGLES WYNNUM MANLY CRICKET CLUB
GC COMPOUND SKATE PARK
XTC SPORT LTD UK
Building design, construction, interior design, PROPERTY management, REALTY, STORAGE
VANESSA WOOD INTERIORS (13 YEARS)
JANELLE WATSON EVANS INTERIOR DESIGN
AHC LIMITED
GOOD LIFE LIFESTYLE RESORTS
DUNDOWRAN INDUSTRIAL PARK
PARKHURST TOWN CENTRE
LINEAR 56 DESIGN
BALL REALTY
GOLD COAST ELECTROPLATING
AFFORDABLE TOTAL RESTORATION
EVOLUTION FACILITY MANAGEMENT
HELLO GROUP POLAND
GREEN FINGERS GARDENS
TELE BOX STORAGE POLAND
RENEWABLE ENERGY
CAPE BYRON MANAGEMENT/POWER (7 YEARS)
QUINBROOK PARTNERS LTD
PRIVATE ENERGY PARTNERS
CLIMATE INFRASTRUCTURE PARTNERS
CLIMATE INVESTMENT PARTNERS
ENERGY TRADE
Medical, health, wellbeing
CROHN'S MAP VACCINE
DR TIM O'DOWD
FERTILITY GOLD COAST (5 YEARS)
MINDFUL NURSING
FOCUS ON WOMEN PHYSIO
DR SUSAN ROBERTS PSYCHIATRIST
STEPPING STONES FOR LIFE PSYCHIATRY
BHUDEVI DAY SPA
DR THOMAS BIGE HEALTH COACH CENTRE
CREATIVE MINDSET
AGED CARE
HOME INSTEAD SENIOR CARE
AUTOMOTIVE
SHADY CREATIVE MEDIA
LEASK RACING UK
RAS AUTO
AUTOMOTIVE TALENT
AUTO AD
C Y RENT A CAR
EDUCATION & associations
THE SOUTHPORT SCHOOL (TSS)
ASHMORE STATE INDEPENDENT SCHOOL
GRIFFITH UNIVERSITY SCHOOLS OF HOSPITALITY & TOURISM
KIDS PREP CO
ROYAL NATIONAL AGRICULTURAL INDUSTRIAL ASSOC. OF QLD (4 YEARS)
PERSONAL DEVELOPMENT, PROFESSIONAL PROFILES, THE ARTS
SHADY CREATIVE MEDIA
CHRIS NYST BOOKS
EDWARD DE BONO CENTRE FOR THINKING
ANDREW BAILDON
KAREN BAILDON
PERRY LEASK
CHEF GAVIN HUGHES
CHEF ALAN JANE
CHEF MERVIN MCCOY
PROFESSOR JOHN HERMON-TAYLOR
EVA BRECKON-THOMAS
PLUS MULTIPLE ANONYMOUS
NON-PROFIT & PRO-BONO COMMUNITY PROJECTS
FRIDAY WARRIORS
CROHN'S MAP VACCINE U

RIZEUP AUSTRALIA U
ASSIST-A-SISTA
GOLD COAST CHILDREN'S SOCIETY
RED CROSS AUSTRALIA
STAAR FITNESS
CAMBODIAN KIDS
GC COMPOUND
ASHMORE BMX